depicted

[foto de ºCHiViSº--flickr]
incoming
Nicomachean Ethics//Aristotle
Eudemian Ethics//Aristotle
Poetics//Aristotle
De Anima//Aristotle
Cause, Necessity and Blame//Richard Sorabji
The Fragility of Goodness//Martha C. Nussbaum
Essays on Aristotle's Ethics//Amelie Rorty (editor)
Aristotle's Theory of Action//David Charles
Aristotle on Moral Responsibility//Susan S. Meyer
The Fabric of Character//Nancy Sherman
Choosing Character//Jonathan Jacobs
Aristotle's Psychology//Daniel N. Robinson

Volta//Björk
Medùlla//Björk
Vespertine//Björk
Vespertine Live at the Royal Opera House//Björk

Carbon Monoxide//Marlboro Reds
caffeine in not so large ammounts

a whole lotta love
[...]
Wie ich mechanisch eine neue Zigarrette drehe und die braunen Stäubchen mit feinem Prickeln auf das weißgelbe Löschpapier der Schreibmappe niedertaumeln, will es mir unwarscheinlich werden, daß ich noch wache. Und wie die feuchtwarme Abendluft, die durch das offene Fenster neben mir hereingeht, die Rauchwölkchen so seltsam formt und aus dem Bereich der grünbeschirmten Lampe ins Mattschwarze trägt, steht es mir fest, daß ich schon träume.
Da wird's natürlich schon ganz arg; denn diese Meinung wirft der Phantasie die Zügel auf den Rücken. Hinter mir knackt heimlich neckend die Stuhllehne, daß es mir jäh wie hastiger Schauder durch alle Nerven fährt. Das stört mich ärgerlich in meinem tiefsinnigen Studium der Bizarren Rauchschriftzeichen, die im mich irren, und über die einen Leitfaden zu ferfassen ich bereits entschlossen war.
Aber nun ist die Ruhe zum Teufel. Tolle Bewegung in allen Sinnen. Fiebrisch, nervös, wahnsinnig. Jeder Laut keift. Und mit all dem verwirrt steigt Vergessenes auf. Einst dem Sehsinn Eingeprägtes, das sich seltsam erneut; mit dem Fühlen dazu von damals. [...] Vision. Proza-Skizze//Thomas Mann.


30.4.05
:: tyranny 1. ::
Miami, May 1st, 2005. Thousands of people gathered today in front of the resting place of two of the greatest musical geniuses to ever cross the Rio Grande. Coming from all over the world, the followers of the "Paz, amor y mucho Ron" [peace, love and lots of rum] movement sang in mass unforgettable songs of the once unbeatable group "Los Bicharacheros" throughout the night. A mattress of exotic flowers and folkloric traditional Guatemalan dresses decorated the tombs of Juan Lésmez and Pablo Martínez who once claimed to be "more popular than the Sacred Heart of Jesus". Leidy Pérez, a sixty year old Peruvian fan, stated "You can really feel the love here, there is no other place in the world where you can feel so proud to be Latin American. Los Bicharacheros are proof of the potential of the people that are a product of interratial mixture. I heard them for the first time while being in a barbecue [pollada] and knew that i would never stop dancing to their beautiful music".
It all started in Huehuetenángo, northeast of Guatemala city,where a young unemployed Juan Lésmez replied to a flyer requesting entertainers for the yearly carnival. Amongst other talented Guatemalan singers, Juan entered the stage dressed in a blue striped suit with nothing else but his guitar and with his mellow hypnotic voice. He started uttering the lyrics of the later top of British and American charts "Por favor, favoréceme". The public didn't respond quite as well as he expected to this new beat, and Juan, with a devastated self-esteem was booed off the stage. Later that day, Pablo Martínez on bass and his friend Iván Vásquez on box [a traditional Latin American percussion instrument] performed successfully and began their race towards fame. Rumors say that backstage Pablo approached Juan and saluted him for his courage and musical vision. After a few months, Pablo's fiend, Iván, was sent abroad for musical training leaving Juan and Pablo without a band. They then met Jorge Enríquez, son of a renowned trumpeter whose musical training brought to the group the melodic diversity and support that was later recognized as one of the basic elements of the success of the group. The percussionist Ricardo Estrella, fourth and last member of Los Bicharacheros, met Juan in a tavern and got into a fight with him over who was the ugliest woman to ever sing in a band. Juan once stated that the reason for bringing Ricardo into the band was the rhythmical manner with which he had "beaten the crap out of me after saying that Celia Cruz was not that bad-looking".
Once the group was together, the pace of the creative process sped up on a daily basis. Having written over 40 songs in just one year, but not yet having a recording company or manager, the fame of the group became too big for the small city of Huehuetenángo. They moved to Guatemala city and recorded a demo with two songs: "Agárrame la manita" and "Por favor, favoréceme". Both songs started circulating in local radio stations and gained the group enormous fame and a contract for an EP containing six new songs. Los Bicharacheros' music spread like a bush fire throughout the Southamerican continent and an intensive touring schedule was proposed. By then, they were the biggest band to ever travel South America, legions of raging fans -both female and male- awaited them in airports and bus stations hoping to get a glance of Los Cuatro Sabrosos [the flavoury four].
1964 was the year that marked the turn of events for the four; while giving a concert in Buenos Aires, a vacationing American entrepreneur came across the band and instantly recognized their potential for grandness. They were invited to take part in the most popular television show in America; for the first time, a group of Latin American musicians were to participate in the massification of entertainment. On February 9 1964, four youngsters dressed in colorful huipils [a kind of tunic] stepped onto the stage of the Ed Sullivan show and set a new pattern for music in the twentieth century. Acoustic guitars, trumpets, bass and box became the standard in popular music, young people all over the world thrived to dance to the up-beat tropical sounds that with simple, easy to relate to lyrics, represented the change of a generation. The greatness of the four began to create friction among them, they were, by now, known as the four greatest musical talents of the century. Driven by the abuse of alcohol and psychoactive teas,they began to write music that was in every sense revolutionary. All around the world, young people started to learn spanish and huge congregations of tourists swarmed the small streets of both Huehuetenángo and Guatemala city. To this day, the childhood homes of the flavoury four are a site for pilgrimage and love. Guatemala began growing economically and by the recognition of its peoples value advanced from the "Third World" to a political, and cultural potency. For this, the four were condecorated with the "Orden del Quetzal en el Grado de Gran Cruz" the highest honour a Guatemalan citizen can receive.
Because of their humble origins, Los Bicharacheros were constantly preoccupied by political assets; rejecting war and all kinds of "imperialist" impositions on the "Third World", Juan, Pablo, Jorge and Richi, took a stand and proclaimed their selves as the ambassadors of peace. Their search for ways to understand the possibility of a world without war led them to the Vatican where they found a broadening of their minds through Gregorian chants and penitence. Nevertheless, the habits of the road-life took a toll upon them and almost forced them to separate. Jorge found that life was meant to be lived abiding the word of the Lord and became a member of the Opus Dei. Juan and Pablo, claiming to have "unreconciliable differences" went their separate ways. Juan settled in Miami and opened a karaoke bar that to this day serves traditional Guatemalan dishes. Pablo became a record producer, also in Miami, and was responsible for the discovery of other great Latin talents such as Marc Antony, Jerry Rivera and Salserin. As for Richi, the feeling of abandonment that the break up bestowed upon him made him reconsider his role in society returning to Huehuetenángo to become a school district teacher.
The 1980 Bicharacheros reunion had a tragic end. After performing legendary songs like "Déjalo sano", "La gira de la Sabrosura Mágica", "Oye Judith", "Amame, si?", "Qué hubo, Chaolas", a group of fans, overwhelmed by the situation accidentally set the stage on fire. A witness, who prefers to stay unnamed states: "It was horrible, no one could control themselves, all the lighters in the room, that swayed gracefully with the music, suddenly formed a great ball of fire that landed between Juan and Pablo, whose wooden instruments were consumed almost instantly... [sobs]... i couldn't believe that it was happening, everyone was screaming and running around, Richi and Jorge ran for help, but by the time they got back it was all over..."
In a gesture of gratefulness, fans from all over the world buried Pablo and Juan side by side and engraved on the tombstones the words: "Paz, Amor y mucho Ron. Con ustedes siempre."
25.4.05
:: tyranny ::
Portnoy
began something that i believe to be amazing. i wish to be a part of it. but i cannot do it by myself. i ask of whoever may be reading this to leave a comment in which a subject for something to be written is proposed. i will answer.
coming in through my ears:: Sie liebt dich//The Beatles
21.4.05
:: lubdub::
sometimes it beats so hard, it hurts; sometimes it races as if it were trying to run from me to someone else laid beside me; sometimes it pushes against my lungs and keeps me from breathing. tonight it just moves rhythmically, in what i don't know whether to call calm or resignation.
coming in through my ears::not much
14.4.05
:: Tsutsukimashou ::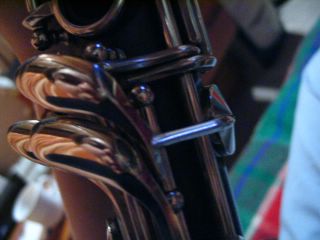 i've started playing again, it makes me glad to realize i can still get sound to come out of the beautiful contraption given to me some years ago. i can't say exactly why i stopped playing. it's one of those things. i suppose it can be explained with the same arguments that are valid for my having stopped drawing. but i haven't found those either. perhaps i'm driven to leave everything i feel i can become good at, perhaps it frightens me to know that something so simple can take me away from all else. and i cannot afford to be away, i never could.
my fingers are not yet accustomed to the positions, a certain lack of aim makes it difficult to follow the melody. and i can still hear my breath along with the humidity it supposes, those high pitched notes still represent a struggle, in general, it doesn't sound quite right. but it sounds. with that hypnotic vibration it reminds me of the first thing i ever ventured to do by myself and for myself. and that is able to bring a smile to my pained face.
it feels weird to know that there exists, at least potentially, a beautiful extension of my breath.
coming in through my ears::Happy session blues//Benny Goodman
12.4.05
:: 0176 29411708 ::
sudden panic attack.
ring, kling, ring.
i was beginning to write, just yet, and on a little sketch pad, written in red, were those numbers i had longed to forget with tremendous effort.__ for such a long time it seemed as though those numbers were the only thing -if in fact they are to be called "things" in a proper way- really existing here.__now those numbers mean no more than the little blue piece of plastic stored safely in my wallet.__
coming in through my ears::You only live twice//Björk
10.4.05
:: Zatoichi ::
lately it has become difficult to generate sympathy towards what gets projected on the screen, i'm saddened by the recognition of my lack of capacity for appreciation of the beauty (on an almost uniquely subjective--- personal/emotive level) of a story made out simply to be told. the last few trips to the cinema begot a certain deception; while knowing of the grandness of the emotive potential of what was seen, no real connection between the silent voids outside and my screaming hollow were made. so many things have taken me by surprise that the numbness spread in an almost protective manner, i became less than a spectator, less than a viewer, less than a watcher.
but when all turned not so strangely worse, i found my self incapable to stay out of the amazing dynamics of contrast. my stubborn decision to focus on that particular screen on that particular day washed away much of the built up sorrow.
i sat there expecting an almost silent film with traces of the japanese theatrical tradition that supposes an enormous distance between my un-transcendental view of life and the mystical grace of the incomprehensible. and such a distance was found, but not only between myself and what was being portrayed.
a blind man walks in silent calm, gripping tightly what is later known to be the key to his wandering. all other, colorful characters, walk through life in a melodical pitter-patter creating illusions of complete oblivion of what has been wrongly made. but all are blind to the eternal struggle between the innermost pain and the projected cheerfulness of a perfectly white mask.
the day to day happenings create an atmosphere of comforting content toward all, but the way all happens reveals a certainly distressing truth, above and bellow all that can be seen lay the terrible scars of past events. what has been cannot cease to be, but compensation is to be acquired. only in silence, in invisible existence, can what has been lost begin to be gained; what cannot be seen even with eyes wide open must stay apart from this rhythmic succession of instants.
it is within this contrast that i found the way to relieve myself of i all. two stories in one second. a sentence not told nor shown. the unavoidable ignorance of what lay behind closed eyes and disguised natures. and a true grin that proceeds of my defeat.
i closed my eyes for a moment and found no distinction between the battle and the joyous dancing. i would have hoped that a clear evidence of change in those few seconds that passed by came forth and granted me the glory of intuitive recongition of a whole. but i am not at all like that; i depend entirely on the sameness of the inner fire of my eyes and those minuscule particles spread within the visible.
maybe my cane is no more than that. i cannot fight against anything as long as my eyes are still fixed on a spot, i cannot release myself of the constant surveilling and the need for visibility while i depend on this piercing light.
and while all may dance in forgetful celebration, a faint suspicion of the all powerful pain still clouds my sight. and so it seems that it is precisely what i cannot see that frees me from what i so painfully keep hidden from all.
coming in through my ears::Citizen erased//Muse
6.4.05
:: Schwiegerkeit II::
and now i must face my guilt for having been so terribly unjust -ifyable-with her. i was planning on writing a letter, to someone, just anyone, preferably an unknown one, but that doesn't work, i cannot pretend i'll send it all away in a little envelope with a flowered stamp.

Dear Whomever,
i've been trying to pretend to speak in this language only to get to you, this cluster of lines may not be in possession of any actual meaning, but that, perhaps, is not at all important. i've begun to understand, just lately, that this silence is proof in favor of the unavoidable. you see, i'm tiring of this cyclic way of the world, i know that there is at least one way in which i could stand the happening of it all, but i've simply refused to do so in order to maintain coherence in what has become a stubborn stance towards things. believe me i try, but hard as i may do so, no answer comes of it, no glimpse of a way out, of a comforting dissolution of the problem. and the thing is, i'm beginning to get tired of simply asking. there's no marvel in this, no unsatisfyable desire for knowing. there's just frustration and anguish and a violent wrath building up against my lack of understanding. can you relate to that?
i take it out all on her. as if i were demanding a proof of infallible rationality in the midst of what is recognized simply by the loss of it. i demand her to be strong, in control, to behave as i would want to, to face it all and relieve me of the burden of having to be responsible. but that cannot happen. that responsibility has been bestowed upon me, i cannot refuse it, no matter how hard i want to. it simply is hard not being able to see her as a superior being, as someone with power over my life. then again, she does have power over me, but not the kind that is to be praised, it's mere entrapment.
i have disappointed whomever has bestowed on me such responsibility. i am not strong, nor rational, nor still. i am full of fear for my own sanity and succumb to the violent impulse of suppression, mistaking the suppression of her with the suppression of what is wrong. i've taken so many wrong turns in this i know not where to begin dismantling this time bomb. and i can seek no help for i have recluded myself willingly in this aggressive bubble. so i ask not help of you but rather simple silence, for i fear, or simply recognize, that you are not capable of any other.
Please forgive my intrusion absent stranger, i wish not to disturb your peace. i know not if i am able to change my ways, or if i am able to ask forgiveness of her, but i am not able to mute myself any longer.

so i can't write such a letter, i cannot say a single word. it makes me weak. and begging. and right now i can't afford that. but still i find it so important to keep in mind the things that make me believe that not all is lost, i'm afraid i will never be able to behave in a fair manner. it seems i'm simply making way for a life-long guilt i could be by now getting rid of. i don't know if i'm sorry.
coming in through my ears:: comforting silence of the sleepers.
5.4.05
:: Schwiegerkeit ::
you would think it becomes easier with time [well it doesn't] it never ceases to be a horrible pain you cannot get away from.__you take a pencil and a piece of paper and think of letting it all go in a few lines that could convey all this rage that now floods your head [you're tricking yourself once more, you're making believe that there's an answer, a way out, that this really is not at all aporetic] and free you from it.__run run as you may, as you have and as you will [she is there to make sure your wounded back keeps bleeding] what has been given stays forever given.__you've become impossible to numb and impossible to move, you are now withdrawn from the realm of sympathy [how can you not hate her, how can you not hate this? how can you not hate this?]quietly sobbing.
one must be resistant, right? there would be no tragic value otherwise... but therein lies the thing i have never been able to understand, is there sense to it all? is there supposed to be?.__you've been taught to think of this as something bound to make you stronger, or so they say [it hasn't killed you, but certainly it hasn't let you be either] that the christian virtue is above all the abandon of one's self.
i can't cope with this anymore.
there's just too much that escapes my will.
coming in through my ears::crazytalk
3.4.05
:: kaonashi ::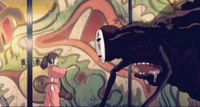 sen ga hoshii desu. he said. sabishii. he said. but there was no expression, there could be none. offer me what you may, i am in no need of anything you can hold in your hands.__stay unseen for as long as you desire, i'll leave this door open. i remember seeing a few tears, for the first time, after watching the tunnel fade away into the dark screen. now, watching her, with a bright violet ribbon, walk through the silent dark, i cannot help myself from crying as well.__miyazaki has always had that effect on me, it's in a way, like a beautiful torture, like a tender reminder of the omnipresence of pain.__ tonari no totoro broke my heart into a million pieces, i can still see the enormous animal merely staring out into the world with a silent innocence that crawls up beneath my skin and makes my every hair stand up in reverence of the magnificence of the simplest of gestures.__the amazing effects of light among the pastures, as if this was not an imitation, as if living could be achieved just -and justly- through the eyes; those raindrops make me think that what is poorly imaged is what goes on outside this window of mine.__ nausicaa showed me the way through japanese, the simplest "ah, mushidarou" excited beyond belief the yearning implanted one day of february, the possibility of all ending in a second and coming back to what it was once supposed to be marveled me and marvels me still.__but i never saw the whole movie, not at least on a conscious level; although i know large parts of the dialogues, i cannot say for certain what it is about.__mononoke hime took me by surprise; instead of the sweet sorrows hidden by the cuddly appearance of characters, herein lay the most violent approach to humanity i could have related to.__ it showed me the way to justify my fear and loathing of what i was born being, for, when something so frightful can be portrayed in such a beautiful manner, there is no more struggle for comprehension: all else must be left unsaid.__and now i meet again with chihiro, again i have to face the threat of not being able to take a single step towards this side of the tunnel, again having tears run up to my eyes begging to be released in a world not as bitter as that one being showed.__for only with these tears can the river be made and the journey start.
coming in through my ears:: For no one//The Beatles